Fire Restoration is an Extensive Process
12/14/2017 (Permalink)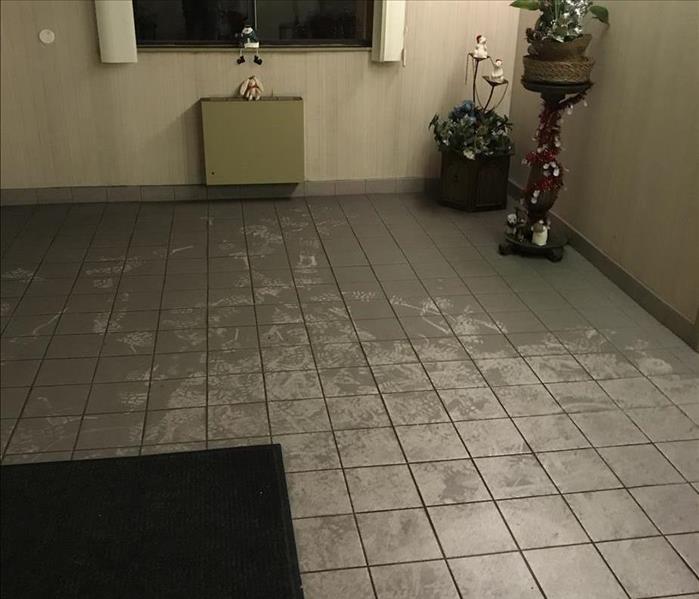 Fire damage leads to water, soot and smoke damage to a wide area. Here is the lobby area of a highrise which experienced a fire in a single unit!
Fires are tragic. However when they occur around the holidays they become even more so. They disrupt the lives of homeowners, tenants and businesses and can causes thousands of dollars in damage.
One reason, that mitigating fire damage is so timely and costly is that usually there is smoke, soot and water damage resulting from the fire. Here you can see the amount of soot which gathered in the lobby of this apartment highrise after it suffered an apartment fire. Ironically, the actual fire was contained to a single unit but secondary damage to the building was extensive. If this is the damage in the lobby you can image what the adjacent hallways looked like.
Smoke and soot will permeate every nook and cranny of the affected area and without professional mitigation, completely removing the odor might be difficult. Restoration companies like SERVPRO of Carbondale/Clarks Summit/Old Forge have certified fire technicians who understand the properties of smoke, soot and odor and are able to come up with the proper remedy. We have the specialized equipment to manpower to handle a fire disaster that affects a large area. the cleanup process is extensive because every floor, wall, ceiling and items within the affected area need to be "touched".
Having the specialized equipment and trained personnel is just one reason SERVPRO of Carbondale/Clarks Summit/Old Forge is Lackawanna Counties leader in smoke, fire and water cleanup and restoration.