Types of Soot
2/20/2020 (Permalink)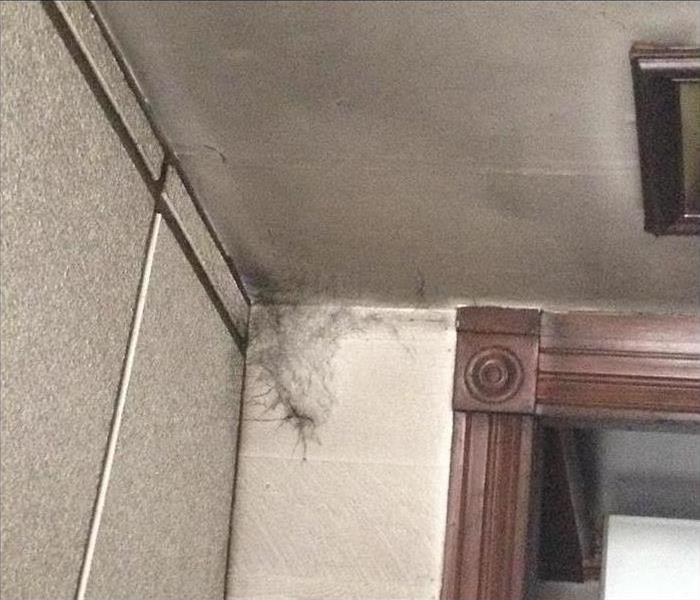 Soot webs are a sign of wet smoke residue resulting in the soot cooling and sticking together to form the web in high corners of the home.
Being a "professional" fire restoration company means having certified fire restoration technicians at your home following a fire or smoke disaster. Here at SERVPRO of Carbondale/Clarks Summit/Old Forge, we have the knowledge and expertise to restore your property to preloss condition. Our technicians know that each fire is unique and in order to properly clean it, they need to know the different types of smoke and fire emits.

Once at a fire scene, a SERVPRO of Carbondale/Clarks Summit/Old Forge's certified fire restoration professional will test the soot to determine which type of smoke damage occurred. Cleaning procedures will be based on the information identified during fire damage pretesting.
Types of soot include:
Wet Smoke Residues- Result from smoldering fires with low heat. Residues are sticky, smeary and with pungent odors. Smoke webs can be difficult to clean.
Dry Smoke Residues- Result from fast burning fires at high temperatures. Residues are often dry, powdery, small, non-smeary smoke particles.
Protein Residues- Virtually invisible residues that discolor paint and varnishes. Extreme pungent odor.
Fuel Oil Soot- Furnace puff backs distribute fuel oil soot.
Other Types of Residues- Tear gas, fingerprint powder and fire extinguisher residues also need cleanup.
Knowing these things is just another reason to have SERVPRO of Carbondale/Clarks Summit/Old Forge restore your home following any fire emergency. From Scranton to Forest City we respond 24/7/365 to help make it "Like it never even happened."